The Spa at Norwich Inn Heads East!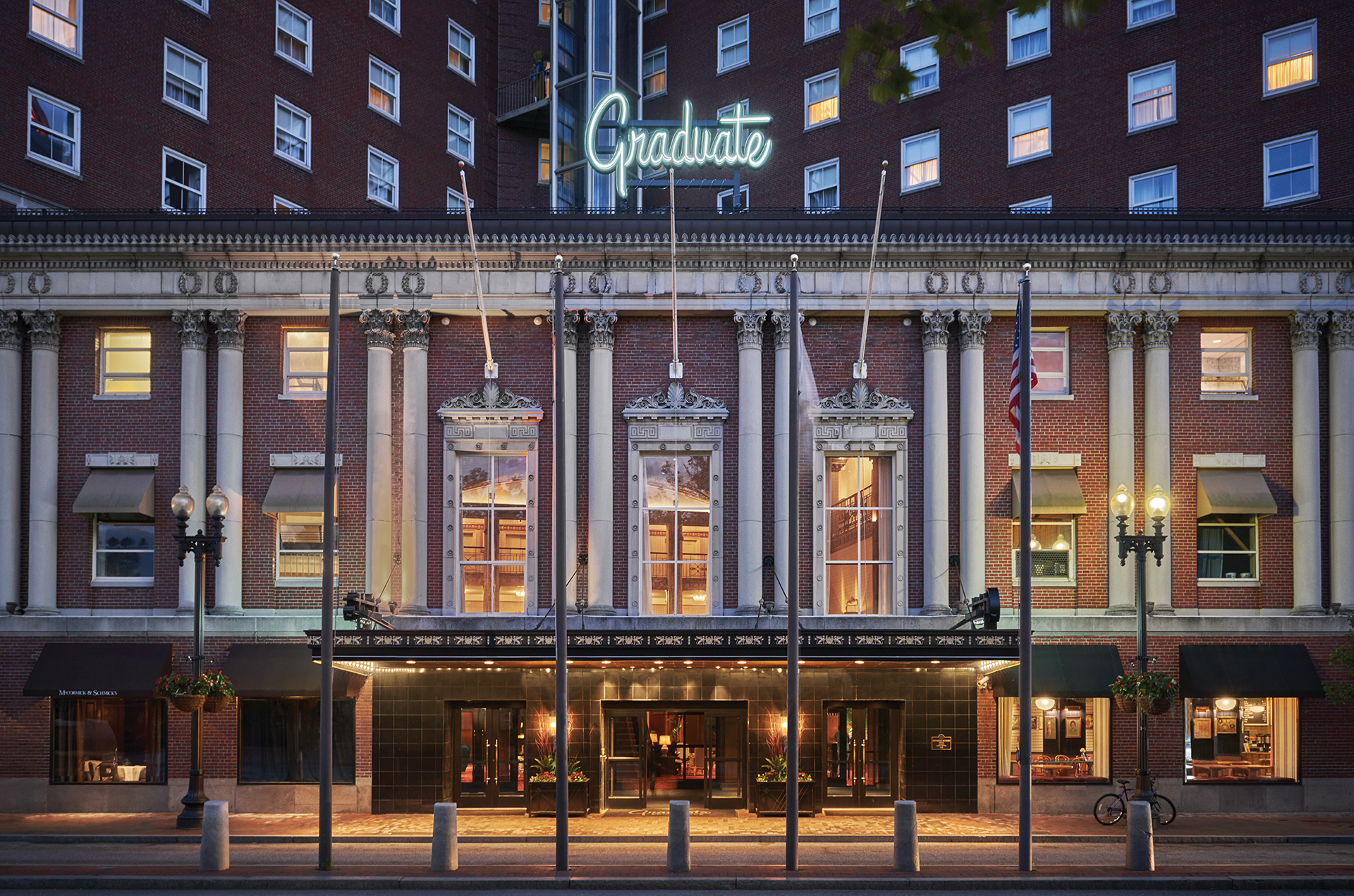 April 2, 2021 (Mashantucket, CT): The Mashantucket Pequot Tribal Nation announces a third location for the Spa at Norwich Inn within the Graduate Providence Hotel, formerly the Biltmore Hotel in downtown Providence, Rhode Island. A strategic partnership between the Tribal Nation, AJ Capital Partners and Graduate Hotels, the highly anticipated new Spa location has been in the works for the last two years and is set to open in April 2021.
"With three unique destinations sharing one brand beyond compare, we're excited about our new partnership, which will bring exclusive wellness and beauty treatments to the most discerning clientele of Providence and far beyond," says Rodney Butler, Chairman of the Mashantucket Pequot Tribal Nation. "The Norwich Spa brand standards focus on high levels of customer service and attention to delivering the best spa experience possible."
"We've been looking to extend The Spa at Norwich Inn brand to other locations for quite some time," says John O'Shaughnessy, President of the Spa at Norwich Inn.  "Providence is an ideal market and opens exciting new opportunities for all three locations. Graduate Hotels is a dynamic up-and-coming hotel group focusing on unique destinations in popular markets. We couldn't be happier with the partnership."
For more than 35 years, the award-winning Spa at Norwich Inn has established a brand renowned throughout New England for its immersive spa experiences, expansive beauty and wellness services, and innovative signature product lines. With unique, pampering treatments designed to rebalance the senses, the Spa's nearly 50,000 clients return year after year to relax, recharge and revitalize.
With a history dating back to 1922, the newly rebranded Graduate Hotel conveys a unique charm, effortlessly contrasting timeless luxury with diverse modern amenities, shining brilliantly amidst the expansive downtown Providence cityscape.  As a partnership in perfect harmony the Graduate Hotel's fine heritage, the Norwich Spa leverages its extraordinary hospitality for the hotel, providing an unforgettable pampering experience to delight the senses and ensure its guests wonderful memories for many years to come.
Interior design plans and an exclusive spa menu of services are complete. Guests can expect luxurious massage and facial treatments, a top-notch salon for the latest in hair design, hand and foot treatments, and even a Bridal Lounge dedicated to couples and their parties for exclusive and memorable group services.
"This new opportunity gives us the chance to bridge three unique experiences, a destination spa, a casino resort spa, and a chic downtown hotel spa. Our brand standards have always been first in class, and they can also be fluid and adapt to the preferences of our clients in each location."– Kim Gagliardo, Executive Spa Director.
"Graduate Providence has very quickly become the home for college alumni, bridal parties, corporate executives and groups visiting downtown. The addition of a world-class spa completes our high level of service offerings and we look forward to partnering with the team at Norwich Spa to deliver the best in hospitality."  – Scott Williams, General Manager, Graduate Providence.
For more information on this project, follow our progress at nspaatthegraduate.com.  Please send media inquiries to Bridge Marketing, david@bridgemarketingct.com.
# # #

About the Mashantucket Pequot Tribal Nation: The Mashantucket (Western) Pequot Tribal Nation is a federally recognized Indian tribe located at one of America's oldest Indian reservations, Mashantucket, in Southeastern Connecticut.  As pioneers of the Indian Gaming casino industry, the history of the Mashantucket Pequots reveals one of America's greatest come-back stories, featured at the Tribe's world renowned Mashantucket Pequot Museum. Today, the Tribe owns and operates one of the largest Integrated Resort Casino destinations in North America, Foxwoods Resort Casino, along with a variety of complementary businesses including a world-class golf course, luxury spa, Pequot Pharmaceutical Network, and Pequot Plus Health Benefit Services.  As one of Connecticut's highest revenue contributors and largest employers, the Mashantucket Pequots have provided the state more than $4 billion in slot revenue through a first-of-its-kind agreement, established in 1993.  Likewise, the Tribe has contributed hundreds of millions in donations and sponsorships for the benefit of communities and tribes in need, locally and throughout the U.S.
AJ Capital: AJ Capital Partners, based in Chicago and Nashville, is an accomplished team of hospitality and real estate investors whose innate passion is to create a one-of-a kind portfolio of timeless assets. The counterculture investors acquire, design and develop transformative real estate throughout the US and UK. In fall 2014, AJ Capital Partners launched the Graduate Hotels® collection. AJ Capital Partners continues to grow its portfolio of lodging investments, firmly establishing the group as visionary leaders in the lifestyle-driven investment industry. For more information on AJ Capital Partners, please visit www.ajcpt.com.
Graduate Hotels: Graduate Hotels is a hand-crafted collection of hotels that reside in dynamic university-anchored towns across the country.  Each hotel pays homage to the heritage of its unique town through cultural nods to the local community.  Launched in 2014, there are currently 28 hotels across the U.S. and an additional eight hotels set to open by the end of 2022. Graduate Hotels is owned by Adventurous Journeys (AJ) Capital Partners, a vertically integrated global real estate developer, owner and operator, founded by Ben Weprin in 2008 with offices co-headquartered in Chicago and Nashville. For more information on Graduate Hotels, please visit www.graduatehotels.com.